Software Tips & Tricks
Does your website actually serve your visitors' needs?
About a month ago, a cartoon from the online comic series xkcd sparked a wave of discussion about the role of websites in higher education. The cartoon is simple enough: a Venn diagram with two overlapping circles — one side labeled "Things On The Front Page Of a University Website," and the other labeled "Things People Go To The Site Looking For." The one shared feature between the two is "Full Name of School".
The cartoon resonated with many people, including, students, alumni, visitors, and web designers alike. Inside Higher Ed covered the comic and ensuing debate in two articles, No Laughing Matter and Web Re(design). The take-away message in both is that many university sites try to serve too many needs at once—external visitors and internal administrators—and end up serving none.
We want to help you make the best of your university pages: come to our last CommonSpot Drop-in Lab for the summer and get advice from staff from OMC and Technology Training.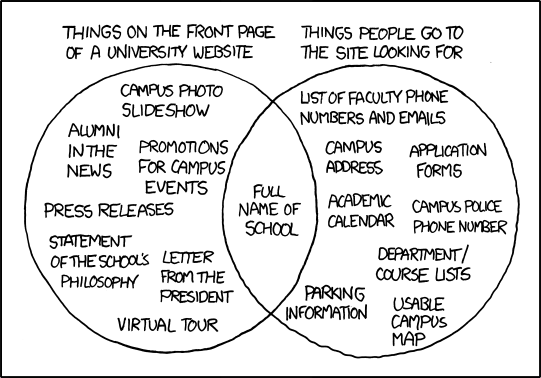 Tags: design, web publishing