CIE Blog
CIE Speaker Series Welcomes Guy Kawasaki

The Center for Innovation and Entrepreneurship invites you to attend our upcoming CIE Speaker Series featuring Guy Kawasaki on Monday, March 28, 2011. 
Event Information:
Monday, March 28, 2011

6:15-7:00 pm Check In/Registration & Complimentary Desserts

7:00-8:30 pm  Program

 

Recital Hall

Parking available in the Parking Structure

(permits are required on campus until 8 pm)

 

Limited seating-

RSVP

is

required

.  If you are interested in attending, please

click here to reserve your seat today

. 

 

FYI, a waitlist will be created, with openings filled from the waitlist in the order in which they are added.
About Our Speaker:
Guy Kawasaki is the co-founder of Alltop.com, an "online magazine rack" of popular topics on the web, and a founding partner at Garage Technology Ventures.  Previously, he was the chief evangelist of Apple.  Kawasaki is the author of ten books including Enchantment (available in March 2011), Reality Check, The Art of the Start, Rules for Revolutionaries, How to Drive Your Competition Crazy, Selling the Dream, and The Macintosh Way.  He holds a BA from Stanford University, an MBA from UCLA as well as an honorary doctorate from Babson College.
Topic: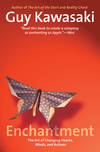 We look forward to welcoming Guy to the SCU campus for his talk on The Art of Enchantment.  In this speech, Guy explains how to influence people's hearts, minds and actions.  His message is that the goal is not to get your own way but to bring about voluntary, enduring and delightful change.  The power of enchantment enables you to maneuver through difficult decisions, break entrenched habits, defy the wisdom of crowds and get colleagues to work for long-term, mutually beneficial goals.  Topics include how to achieve likability and trustworthiness, how to overcome resistance, how to enchant people who work for you and how to enchant your boss.
In compliance with the ADA/504 please direct your accommodation requests to: Linda Jenkins via email at ljenkins@scu.edu at least 5 days prior to the event.
Posted by Linda Jenkins
Tags: CIE, CIE Speaker Series, Guy Kawasaki, The Art of Enchantment
Resources
Whether currently at a startup or exploring entrepreneurship, visit our Resources page for information on entrepreneurial blogs, tools, business plans, resource centers, organizations, networks and more.

Visit Our Resources Page